Year in review
Explore the full 2020 lookback
Read now
Last year saw significant changes to daily life for millions, forcing rapid and innovative changes to the way many industries were run. Lenders in particular were inundated with applications from those seeking financial support, driving a dramatic increase in the need for efficient digital channels. We are proud to take a moment to celebrate the many successes we witnessed among our customers as we look forward to a continued partnership in 2021, delivering excellent service for the millions seeking financial help.
Lenders handled twice the volume with impressive efficiency

Consumers sought financial help, and lenders were there. In total, Blend helped financial institutions handle more than $1.4 trillion in mortgage volume, more than double the $538 billion from 2019. As a highlight, in a single day we supported lenders as they processed a high of $8.2 billion going towards providing a roof for new and returning homeowners.
Hard-working LOs across the country delivered real value for new and returning homeowners.
Faced with overwhelming volumes, lenders increased operational efficiency and unlocked team potential. The average Blend depository customer who uses Blend for at least 90% of their loan volume saw an average of 14 loans closed per month per loan officer.
Blend's self-serve capabilities continued to help borrowers as well. With over half of borrower activity occurring outside business hours in 2020, having an always-on solution helped our customers be there when their borrowers needed them.
New innovations across our Mortgage and Consumer Banking products helped our customers thrive in uncertain times

Building directly on feedback from our customers, our development team accelerated release schedules to deliver new products and features in 2020 that improved the consumer experience while meaningfully impacting our customers' bottom line.
For Mortgage customers, we built out our suite of products and services to include:
We also built out significant capabilities to support our ever-expanding list of Consumer Banking customers:
Case study
Our commitment to ROI
Read the story
During this moment of celebration, we'd also like to highlight a few of our customers who saw great success deploying new features.
Navy Federal Credit Union was able to deal with unprecedented volume from the 2020 mortgage refinance boom through the use of Blend's auto-decisioning features — reducing the number of loans that required manual review by 23%, saving hundreds of labor hours a week, and helping manage a higher volume of refinance loans more efficiently.
The Republic Bank team used Blend to double production, reduce turn times by 17%, and reduce underwriting touches by 16%— all without increasing staff levels.
With Blend, the University of Wisconsin Credit Union team increased loan volume by 33% above market growth rate while decreasing loan cycles by 12 days. They are seeing a $2,866 return on their investment per loan.
Blend-powered lenders helped improve the lives of nearly two million consumers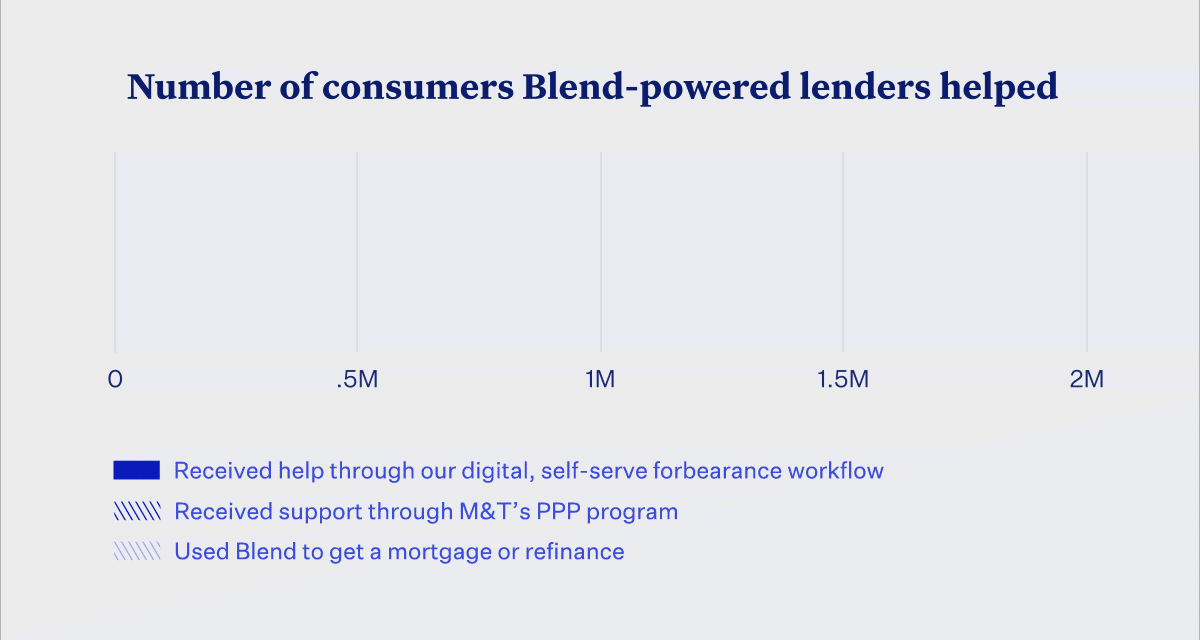 We're most proud of how our customers were able to use our products to help so many consumers gain access to vital financial resources, especially in a year like 2020. Over a million consumers used Blend to get or refinance a mortgage.
When the coronavirus hit, many businesses were facing serious financial peril. Helping M&T develop a workflow to allow businesses to apply for PPP loans was a big win this year. M&T worked with us to pull that workflow together in just 72 hours. Ultimately, the program helped 718,000 people.
Many faced tough decisions about their finances this year. As the effects of the pandemic wore on, Blend partnered with lenders to develop a better way of managing the high number of forbearances, building a self-serve workflow that helped more than 18,000 borrowers find a financial solution that worked for them.
The Blend Community grew substantially in 2020
The Blend community grew substantially in 2020 and is now represented by over 285 financial institutions processing nearly 30% of all mortgage volume in the U.S.
This year, don't wait for the retrospective.
Subscribe for industry trends, product updates, and much more.
To support such a large client base, the Blend team has also grown and now has over 600 people helping support our customers. We're excited to welcome new members to our growing family and increase the number of borrowers and team members that benefit from the power that Blend brings.
As we move into 2021, we are continuing to build on what we learned during a trying time. We applaud all of the hard work and dedication demonstrated by lenders everywhere as we look forward to another year of success, innovation, and most importantly,  excellent consumer experiences.