Market conditions are as volatile as ever. Purchase applications are on the rise heading into the summer months. If loan teams were hoping for a break, all indications are that this won't be the case. To help ease the burden, we are excited to announce new workflows and expanded capabilities for LO efficiency, so they can continue to deliver the best customer service while simplifying their day-to-day activities.
It is essential that loan officers have access to intuitive tools that help them work quickly and efficiently with borrowers. Increased efficiency translates to increased time, energy, and focus — a precious set of resources in any environment — which can be spent effectively building customer relationships and retaining business. Rather than working across disparate tools and systems, LOs can focus on being trusted advisors.
Blend's Pre-approval Builder already offers LOs access to tools that make it easy to know what's next on their to-do list, helping them qualify borrowers in minutes and guide them through the application process. With our expanded feature set, LOs can tap into even more time-saving tools to refocus on the relationship-building that drives lifelong business.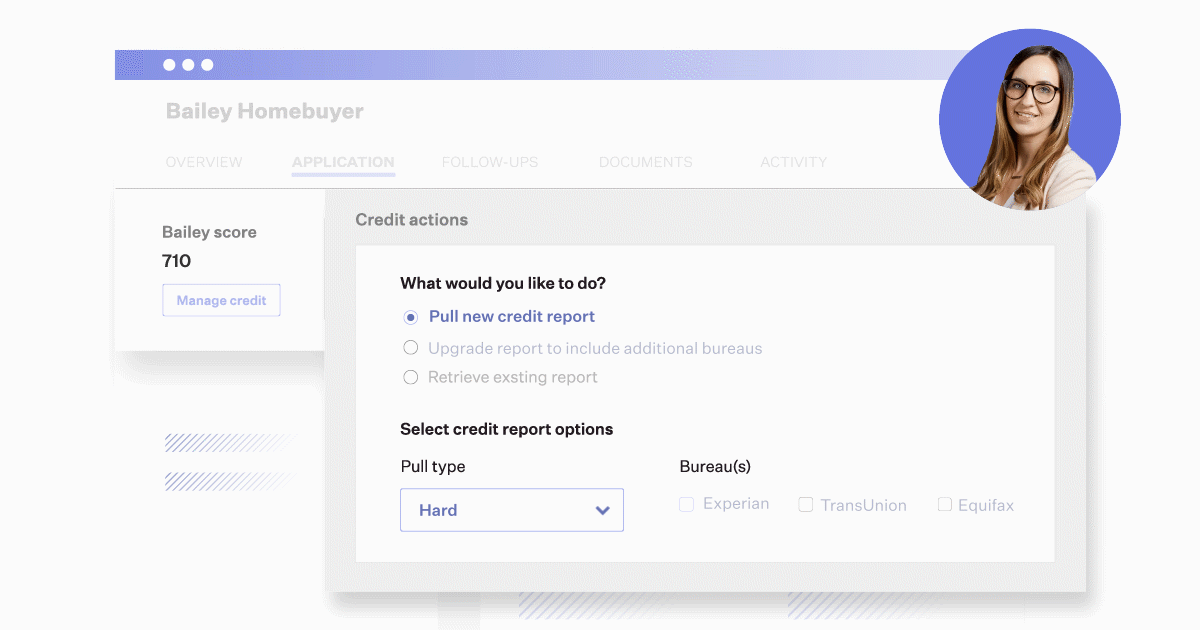 Added flexibility with more options for pulling credit
Credit scoring is fundamental for determining customers' eligibility, but consumers are rightly concerned about how their credit is accessed and handled. With new enhancements to the credit functionality in Blend, loan officers have more flexibility in accessing and managing credit reports in the early stages of a borrower's application.
Newly added options for soft credit pulls — including configurability for single to tri-merge bureau pulls — enable loan officers to get an early understanding of the borrower's financial situation without negatively impacting credit scores.
Once borrowers are ready for a more detailed pre-approval, loan officers can easily upgrade the credit report to a hard credit pull or pull in additional bureaus. As an added benefit, if a credit report has already been initiated for a borrower on another loan in any system, Blend or not, it can be retrieved by using the credit report identifier.
With a comprehensive set of credit tools in one place, loan officers have the flexibility to get the information they need to advise borrowers and drive loans forward.
New options to configure pre-approval letters
With our Pre-approval Builder, LOs have access to one toolbar with all the integrations they need to qualify the borrower and get them started on their homebuying journey.
Blend's guided workflow enables loan officers to quickly capture in-person or phone applications, run credit, select product and pricing, pull fees to estimate closing costs, and run an AUS. Loan officers can easily share pre-approval letters with borrowers and/or real estate agents, with the ability to adjust the purchase price on the letter up to the amount approved.
And now with our latest letter template, lenders have the option to configure additional loan details like loan type, loan-to-value, property type, property location, and a pricing summary including rate, payment, and APR. Provide the speedy pre-approval service customers demand, with additional configurability to fit your existing processes.
Deliver an easy-to-understand closing cost estimate
Hidden fees and surprise costs are a surefire way to sour any relationship. With our new Loan Cost Worksheet, loan officers can strengthen their position as an educational resource while minimizing last-minute sticker shock. A detailed overview of the loan scenario, along with estimated closing costs, allows loan officers to help the borrower understand the true scope of their pending purchase.
Fees can be automatically populated when configured in a pricing engine and/or from other fee quote providers so loan officers can review, make any needed updates — and with one click — send a customized closing estimate to the borrower for review. Providing transparency and empowering loan officers to be trusted advisors has become much easier.
Our commitment to superpowering loan officers
We are continually committed to developing our end-to-end Digital Lending Platform. With this LO efficiency release, we are excited to give LOs a refined toolkit designed to deepen relationships, empower informed decision making, and yes, close more deals.
As our platform grows, so too does the ability of our loan officer users to deliver an exceptional lending experience. As always, we have more tools on the way. Stay tuned as we continue our mission of superpowering the loan officer with new workflows that make it easier to serve customers quickly and accurately, anytime and anywhere.
---
Want to learn more about how Blend helps loan officers operate more efficiently?
Get in touch with our team to see a demo of Blend's Digital Lending Platform.