How personalization is driving the next wave of customer experiences in banking
Customer expectations across industries continue to rise, but investing in personalization can help financial providers stay ahead of the curve.
Compared to companies not focused on the customer, customer-centric businesses are:
But delivering great customer experiences in banking has never been easy. Today, financial services organizations are tasked with balancing the modern convenience of digital experiences with the familiar touch of interpersonal interactions. A new approach is needed — one that addresses new market demands by taking personalization a step further. 
This resource aims to support financial providers in the quest to improve the customer experience in banking. It includes:
How recent trends impact a provider's ability to personalize the customer experience
Insights into what today's customers want from their financial institution
An overview of the customer interaction cycle in banking
Tips on how to evolve the customer experience 
A look at how pioneering firms are getting it right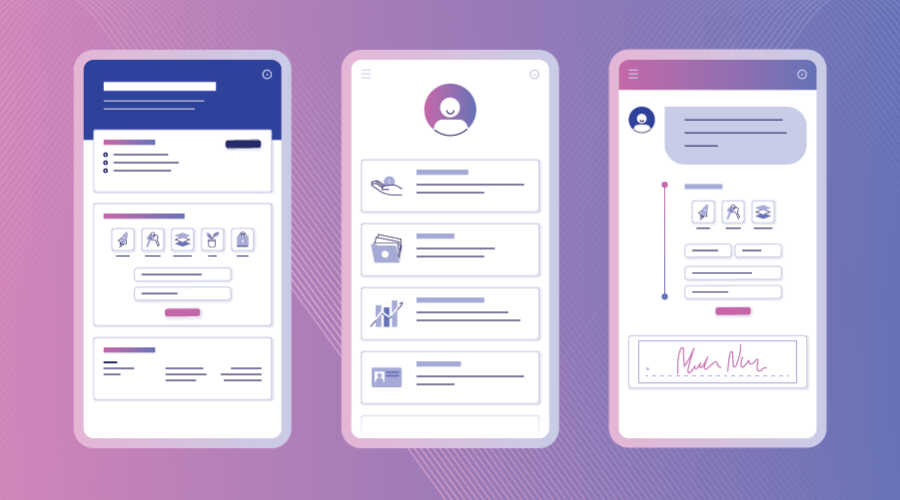 Recent trends impacting personalization of the customer experience in banking
COVID-19 upended the industry and accelerated digital adoption
Digital engagement increased dramatically during the COVID-19 pandemic — half (50%) of consumers now regularly interact with their bank via a mobile app or website, compared with 32% two years ago. At the same time, branch transactions have significantly reduced. 
This rate of change isn't expected to slow down any time soon. Digital engagement is predicted to increase by more than six-fold in the near future, suggesting that digital-first and contactless tech has become table stakes. 
As a result, financial institutions are having to rethink how to engage with customers in a new digital environment while also maintaining the personal touch that drives value.
Customers now expect tailored and proactive digital experiences
Banking customers live lives increasingly influenced by the creature comforts of digital. Tailored content selection, instant gratification, digital convenience, and seamless omnichannel experiences are now the norm. As a result, today's consumers expect more from their banks. In fact, 40% of banking customers would consider leaving their primary financial institution for an experience that compares to online shopping.
Acknowledging these expectations, challenger banks are on the rise. In 2021, global fintech funding exceeded its number in 2020 by a massive 96%. As a result, U.S. challenger banks served around 39 million customers in 2020 — a nearly 40% increase from 2019. Many of these fintechs are focused on a specific market segment and can deliver more personalized service as a result, which enables them to capture market share and expand. 
All providers are challenged to adapt to a world where customers need digital services in ways that tightly align with their particular needs. There's an opportunity for everyone, regardless of how they started, to adopt the strategies that are working in today's market: geographically agnostic services that cater to the specific needs of individual populations.
What do today's customers want from their financial provider?
Customers are more demanding than ever in large part because they are used to the seamless, digital experiences they get in e-commerce, online entertainment, and other aspects of their digital lives. What they are now looking for includes: 
What customers want from their financial provider
The customer interaction cycle in banking 
Before a financial provider makes changes to offer a more personalized CX, it can be helpful to understand the customer interaction cycle in banking — the key areas where organizations have an opportunity to engage with each consumer. 
There are five key actions to take:
Provide a great welcome


The first impression is critical to securing customer loyalty early on. A poor welcome, however, can lead to customers quickly taking their business elsewhere — and this is very difficult to recover from.

Understand customer needs
Customers provide a lot of information about themselves across their interactions. By using this data carefully and employing technology like artificial intelligence (AI), financial providers can anticipate customer needs in the moment and make offers that are hard to resist.
Suggest the most appropriate solution
By positioning products with sensitivity, financial providers can continue their demonstration of empathy. They can use the understanding they have of their customers to suggest solutions that meet their unique wants and needs. They can also display these carefully curated products clearly and consistently so that they can easily be compared.
Deliver the product
When it comes to the delivery of the product, speed matters. Pre-approval and instant decisioning can help expedite the process, as can streamlined and efficient application processes.
Continue the relationship
Retention is important. From a relationship standpoint, it can be improved by using the right mix of human and digital interactions. From an operational standpoint, key actions include making appropriate cross-sell offers and thoughtful suggestions that deepen the relationship with the customer.
Evolve the customer experience
Let's explore three ways to deliver the personalized experiences in banking that today's consumers are looking for:
Translate brand experiences for a digital world


Empathetic banks

achieve

success because they can effectively understand customer behavior and then translate it into digital, yet human-like, experiences. One example includes a guided application process that provides answers to common questions along the way.

One analyst

suggests that progress can be made by valuing your customers' time. Financial providers can consider using AI to streamline task flows and reduce the number of steps their customers have to take by pre-filling applications with the information they have already provided. A

recently commissioned

study

conducted by Forrester Consulting on behalf of Blend backs this up.

58% of surveyed customers said it's frustrating when they apply for a new product and their bank forces them to enter personal information the bank already has. 

Of course, there are opportunities for actual human interaction too, both in person and via digital channels

—

especially when a customer is looking for additional support. 

Anticipate needs


Anticipating customers' needs and then proactively acting on those needs is

considered

key to creating effective digital experiences.

In the same

study

conducted by Forrester Consulting on behalf of Blend,

almost three-quarters of banking customers surveyed said they believe product offers are more valuable when they're contextually relevant. Around 50% said they wish banks would be more proactive about giving them relevant financial information and advice that contributes to their financial well-being.

By doing this effectively — and delivering personalized offers in the moments that matter — financial providers can take cross-sell a step further. For example, when a customer is halfway through a mortgage application, it becomes clear that they need a little extra cash to buy household goods. With this knowledge, the financial provider can offer them a home equity loan in that moment.

This kind of activity not only helps to build trust and foster long-term relationships but also supports financial wellness. 

Facilitate an end-to-end customer journey


Customer journeys have historically been characterized by disconnected moments of progress followed by lulls in information. For example, a customer may start an application in a branch, wait a week for a follow-up call with a different person, and possibly even close with a totally different company. 

This changes when a financial provider delivers a unified end-to-end experience. Providing a seamless service for customers across banking products and communication channels — enabled by orchestrating back-end processes and people — financial institutions can not only eliminate inefficiencies and cut costs but also provide a more personal experience that can encourage repeat business. 
More examples of excellent customer service in banking
Translating better personalization into better customer experiences
In the sections above, we've outlined why it's so important to deliver good customer experiences. We've outlined what customers are looking for, and we've identified some areas where financial institutions can make improvements. Now, let's take a closer look at what we believe is paramount for truly outstanding customer experiences — personalization.
The results of the recently commissioned study conducted by Forrester Consulting on behalf of Blend found that mature banks are excelling at personalization thanks to several key capabilities: 
Capturing data effectively


Banks that succeed with personalization leverage more data sources than their peers. This includes data around customer assets and income, transactions, credit scores, and third-party data too.

Focusing on delivering customer value
Mature banks use the information customers have provided about themselves to deliver experiences that put customer value front and center. They understand customer needs and act on that understanding to address them and ensure financial wellness.
Being there when customers need them
Mature banks focus on delivering personalization across every aspect of the customer journey. Customers feel supported and valued when their financial institutions are able to proactively plan and deliver contextually relevant offers to customers at exactly the right moment and in the channel of their choice.
Reducing friction
Those banks that excel at personalization are able to minimize customer data input and qualification steps, reducing friction for customers.
More examples of personalization in banking
Banking leaders seem to be taking note: Nearly three-quarters of respondents said their institution will spend more on personalization in the year to come. 
This is likely to pave the way for an exciting future — 80% of respondents said their institution will work to scale its personalized experiences across every stage in the customer lifecycle.
Ready to discover more ways to improve
personalization in banking?