Building primary relationships with customers is a priority for today's financial institutions because they are drivers of better loyalty, greater customer satisfaction and, as a result, improved revenues.
One of the best mechanisms you have for developing these relationships is to deliver next-level customer experiences. While this can be challenging, a structured approach can help make the process a little more straightforward. By breaking down the customer experience into distinct moments, you can identify key opportunities to improve engagement. This is often referred to as the customer interaction cycle in banking.
There are five key moments where financial institutions and their customers interact:
The welcome
Understanding customer needs
Suggesting the most appropriate solution
Delivering the solution
Continuing the relationship
How can you optimize each stage of the customer interaction cycle in banking?
During each of the key touchpoints with customers, there are actions that you can take to build primary relationships. Let's take a closer look at each of the five stages.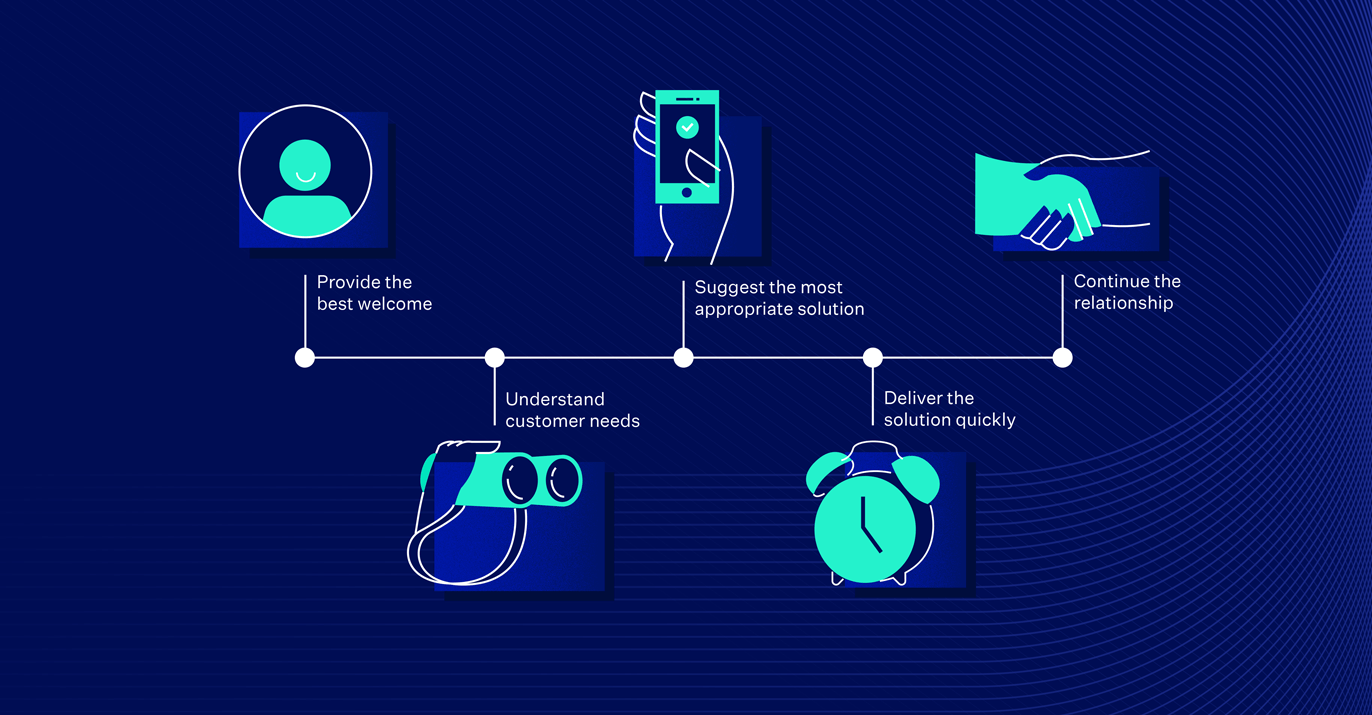 1. Provide the best welcome
First impressions count, and this definitely holds true in banking.
One of the earliest touchpoints with new customers is the application experience, but it is often a long and laborious process, in part because many banks and credit unions have focused on implementing digital applications rather than optimizing them. In fact, close to a third (30%) of online account openings took longer than ten minutes in 2020 — and this has had a significant impact on abandonment rates.
Abandonment issues put emphasis on the need to optimize the digital process by cutting out unnecessary steps, creating a serviceable website that is intuitive and easy to use, and streamlining the application process. Those that focus on making the account opening experience easy, fast, consistent, and convenient can drive a superior experience.
Support all of this with well-trained on the ground staff (both on the phone and in person),  personalized follow-ups, and well-curated marketing, and you can create a great welcome that sets the stage for long-lasting relationships.
2. Demonstrate an understanding of customer needs
The second stage of the customer interaction cycle involves understanding customer needs and then demonstrating that understanding with empathy. Unfortunately, just 3 in 10 banks are very confident that they understand their customers' feelings about their current monetary situation without asking them outright.
This is where data-driven insights can really help. By thoughtfully using information provided by the customer and then applying artificial intelligence to make accurate predictions, you can realize the value of proactive finance.
Proactive finance is the ability to anticipate a consumer's needs and then make timely suggestions in a way that demonstrates real understanding, feels more personal, and improves the customer's ability to make informed decisions. This innovative take on personalization can help boost financial wellness.
3. Suggest the most appropriate solution for a customer
You've invested in ensuring you understand your customers' needs, so now it's time to continue that demonstration of empathy.
This doesn't mean being pushy or making a hard sell. Instead, it's about training staff to position products with sensitivity and appreciation of a customer's unique set of circumstances so that it is easy for the customer to choose a solution that best matches their needs.
This can be achieved in a number of key ways. First, products can be displayed clearly and consistently, in a way that facilitates easy comparison. Cross-sell is a factor here — you can, for example, dynamically present a personalized loan offer during an application for a mortgage. If that cross-sell offer can be claimed in just a few clicks, then this convenience can be very attractive to customers.
4. Deliver the solution quickly and easily
Once a customer has chosen a product, they shouldn't have to wait lengthy amounts of time to find out if they are eligible for it. That's why instant decisioning and pre-approval can be incredibly valuable. In fact, customers are much more likely to get a loan from a lender who pre-approves them.
Speed is also crucial after approval. Depending on the product, it can take weeks or even months for banking customers to move from application to close. One major roadblock is when data collection challenges result in bottlenecks, with customers having to stop and start while they find information on assets, payroll, or tax accounts, for example.
Application experiences that reduce the amount of manual inputs can help expedite completion and reduce the risk of application abandonment at the same time. Applying features like data pre-fill or asset connectivity can help make the simple applications even simpler while helping to make the more complex applications less painful.
This can all be supported with a more effective closing and funding experience. Closing often remains a manual process that can be a time-consuming and frustrating stage of the customer interaction cycle in banking. However, you can gain advantage by providing digital closing options for those who prefer an end-to-end digital process, with flexibility for traditional wet-sign or hybrid closings too.
It can also be useful to unify application and servicing workflows within the same system, allowing customers to see their progress and increasing opportunities for communication throughout the closing period. Helping customers feel informed and reassured about the current status of their application is a great way to reinforce the relationship you're developing.
5. Continue the relationship and foster long-term loyalty
It can cost five times more to attract a new customer than it does to retain an existing one, so retention is an important part of the customer interaction cycle in banking.
Continuing the relationship most effectively can be boosted by applying a careful balance of technology with a human touch. In fact, a mix of digital offerings and human interactions can lead to higher customer approval ratings.
The digital element involves offering convenient, yet personalized experiences across both product lines and channels. This might be via features such as data pre-fill, which means that existing customers don't have to re-enter information they've already provided when applying for a new product.
By then building on this digital foundation and providing winning service well beyond the close of a product, you can help foster long-term loyalty. This can be much easier if you have access to the personalized information underpinning the digital foundation, and if you are not bogged down by manual tasks.
Connect experiences across the full interaction cycle for the best results
When you put yourself in your customers' shoes and work on improving each of the key interactions throughout the lifecycle, you can build stronger primary relationships.
However, it's important to realize that the sum of the experiences across each of the different stages should be consistent. It can be easy to overlook this and, as a result, end up optimizing experiences in a siloed manner. Unfortunately, this can damage the very relationships that you want to optimize in the first place.
By delivering holistic, personalized experiences across the full customer interaction cycle in banking, you can provide a seamless experience that can deliver results.