How mortgage process automation can transform your lending business
Go beyond simple digitization with accelerated processes and amplified experiences, powered by a mortgage automation platform.
Continued digital transformation is widely recognized as being integral to the success of the lending industry, and huge progress has been made — especially during the pandemic. Research suggests that 92% of mortgage firms have at least doubled their pace of digital transformation in the past 12 months, and almost 20% have quadrupled it. 
Despite this impressive progress, significant challenges remain. 
The mortgage industry remains one of the most paper-intensive segments of the financial services sector, with many processes stuck behind painfully manual task lists and far from user-friendly tools. 
All too often, we see loan teams bogged down with laborious, repetitive work. It's a frustrating situation. Lenders that rely on manual, paper-intensive processes not only struggle to compete with digitally native market entrants and incumbent competitors with agile digital adoption, but they also may be unnecessarily prolonging the loan approval process.
This all has an impact on borrowers' experiences. Today's consumers expect streamlined digital lending experiences. Long, drawn-out loan approval processes may lead to customer flight. What's more, outdated tools and workflows can get in the way of personalization. With limited access to insights from loan data — which can happen when digital changes have been made piecemeal and information is not shared across technology platforms — lenders can be limited in their ability to truly understand their customers.
Adopting a more modern technology approach is one way for lenders to overcome these challenges. But simple digital translations are not enough. Repeated old behaviors with a digital shine are still just old behaviors. 
Actual transformation occurs when digital tools are used to reinvent standardized workflows and processes. And a key to unlocking this transformation is found in mortgage process automation tools that excel in mortgage workflow automation.
Discover how true mortgage process automation can help transform your lending business. 
What is mortgage process automation?
What should you look for in your mortgage process automation software?
How can mortgage process automation benefit your lending business?
Why Blend offers a more intelligent approach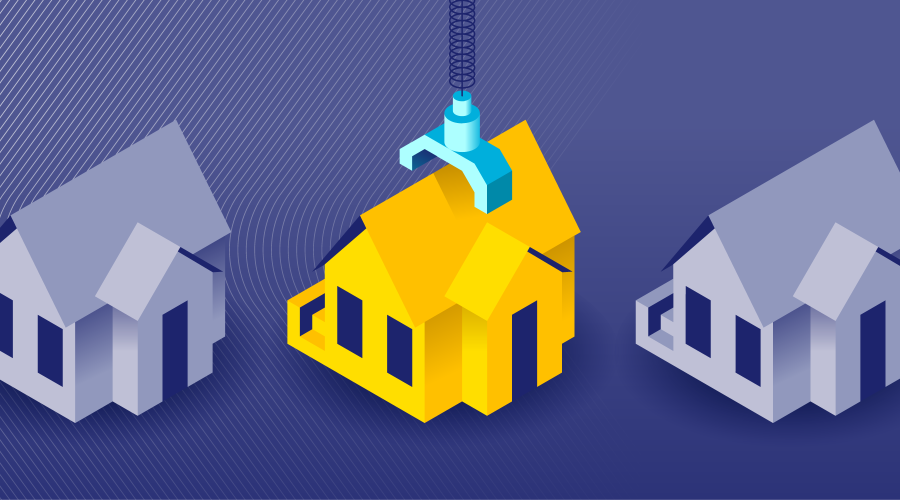 What is mortage process automation?
Mortgage process automation is a reinvention of the way common tasks and workflows are completed. It leverages intelligent technology and deep domain knowledge to minimize inefficiencies, creating new ways of working that are faster and less resource-intensive. 
It's an antidote to the daily struggles many loan teams face, removing the manual and often repetitive elements of their job by automating them in a convenient and efficient way.
This type of technology can also leverage artificial intelligence (AI) or machine learning (ML) to uncover important customer insights, make upstream predictions, or offer intelligent recommendations about loan conditions, for example. 
This isn't about replacing human workers.
Instead, it's about unlocking human potential.
This means modernizing the loan process in a way that reduces the burden on the lender so that they can focus on the higher-value activities that matter most.
Simply put, it makes the mortgage experience more pleasant for everyone involved.
What features should you look for in your mortgage process automation software?
Not all mortgage process automation solutions are equal. Many tools on the market successfully solve the challenge of digitizing well-trod processes. But true end-to-end process automation builds on this digital translation while adding additional value: minimizing manual tasks, expanding across the homebuying process, and offering a variety of modern quality of life upgrades. 
Here are some high-impact features lenders can look for as they evaluate solutions: 
Support for the entire loan application process
Traditional mortgage software solutions tend to digitize the first steps in the loan process, usually focusing on the application phase. From here, standard processes take over. In contrast, modern mortgage automation solutions digitize and automate processes across the entire loan experience, from the time a buyer begins looking for a home to the final close and beyond. If there is a procedure your teams need to execute in support of completing a loan, the best automation solutions will have an optimized, modern workflow for it.

Data pre-fill functionality
Much of the mortgage application process comes down to accessing and verifying information. A solution that uses existing data sources to minimize the need for manual entry can increase the speed and accuracy of an application. For example, information previously provided by the applicant for another product can be used to pre-fill application fields. This data can also be pulled from third-party sources, much like when geolocation data is verified automatically through a map service provider. 
Machine intelligence
Systems that utilize machine intelligence are able to collect application data while also identifying and analyzing it. A solution that leverages intelligent analytics can simplify your access to comprehensive historical data and provide machine-powered recommendations.  
User experience design
Look for a platform that is built with all users in mind. Behind the scenes automation can be undermined by ineffective user interfaces. The experience should be intuitive for borrowers and guide them through the application process in a consistent, optimized way. But it should also be intuitive for loan teams. Modern expectations call for modern design, no matter who is using the technology.
A centralized hub
The impact of implementing an automation solution can be minimized if you still have disconnected lender-borrower experiences. Stand-out automation software supports all key workflows but within a single unified platform: lenders and borrowers working through optimized processes together.
How can mortgage process automation benefit your lending business? 
Increased automation within the mortgage process is ultimately serving one unified goal: making everything quicker, smoother, and less painful — for everyone.
How mortgage process automation can benefit lenders
Here's a closer look at some of the benefits mortgage automation can offer lenders: 
Simplified loan applications 


A seamless, guided application process can cut out inefficient steps that may be driving potential customers — and business — away. Lenders can spend less time worrying about conversion and focus on lead generation, confident their return on investment will be high.

Enhanced loan team productivity and amplified human potential
Features such as data pre-fill and data connectivity can reduce the burden on lending staff by automating applications with accurate and validated data. Computer-assisted processing saves time when compared to the manual equivalent. Meanwhile, integrated intelligence can help deliver instant decisioning and verified pre-approval. This leaves loan teams with more time to carry out those tasks that cannot be accomplished by machines and to build deeper customer relationships.
Strengthened competitive differentiation


The right mortgage process automation solution can allow lenders to improve loan quality while reducing costs. What's more, it can help them attract and retain top mortgage industry talent by providing tools that create free time to create long-lasting customer connections and repeat business.

that cannot be accomplished by machines and to build deeper customer relationships.
How online mortgage application software can help lenders increase pull-through rates
How mortgage process automation can benefit consumers
From cashier-less checkouts to telehealth services, today's consumers are becoming accustomed to speedy, seamless interactions. More than 45% of banking customers currently say they now solely interact with their bank through digital channels. 
Mortgage process automation can improve the experience for consumers regardless of their familiarity with digital channels. There are clear advantages that mortgage automation can provide for customers, including:
A smooth, seamless customer experience 
Lenders report that, on average, half of all online mortgage applications are started but not completed. Mortgage workflow automation takes each borrower through a straightforward process that guides and prompts at every step, helping to minimize abandonment. And because it's a digital process, borrowers can apply for a loan 24/7 over their preferred device and at their convenience.
An organized alternative to the email inbox 
The best mortgage process automation tools build on core automation features to provide better engagement. One key offering on this front is a central location where borrowers can upload documents, sign disclosures, and monitor the progress of their loan application in real-time.
Automatic data validation
By giving consumers the ability to connect directly to their accounts, such as asset and payroll accounts, mortgage process automation solutions can minimize the tedious process of chasing down old bank statements, proof of insurance, and other disorganized data sources. In some cases, consumers can even benefit from automatic pre-approval based on previously provided data, taking some of the guesswork out of the application.
Minimized disruptions and delays
The best mortgage process automation software can help smooth out common sources of friction in the process by analyzing applicant data to flag and surface issues. If a borrower uploads their W2 from 2007, for example, the system can recognize that the document is out of date and prompt the borrower for the most recent version, without the lender needing to get involved. This helps decrease potential human errors and can also improve the overall time to homeownership. 
Blend: The next level of mortgage automation
Blend's mortgage automation platform connects every step of the homeownership journey from start to finish. 
If you're looking for a comprehensive, powerful tool to help you transform your lending business and accelerate workflows, learn more about the Blend Mortgage Suite. 
How Blend's mortgage automation platform streamlines the lending process and optimizes lenders' efficiency 
Blend's cloud-based platform powers end-to-end customer journeys.
While some mortgage automation software focuses explicitly on streamlining and automating paper-based processes, Blend looks at the bigger picture of the homeownership journey. Our unified digital mortgage solution automates key workflows for loan officers, processors, and the broader stakeholders responsible for getting a loan to close — and even for continuing a relationship after the deal is signed. 
Blend's cloud banking platform:
Works to verify data automatically

Pre-fills fields on the application using data from the borrower

Integrates with technology to aggregate data from tax offer platforms and payroll providers

Reduces delays in the mortgage cycle with an integrated marketplace for service providers, including homeowners insurance and title

Supports a variety of verification services (such as income, assets, employment, etc.)

Facilitates human assistance at every step of the loan process
These pieces work together to result in greater efficiency, which can save your business time and money. In fact, respondents to a MarketWise survey of our customers noted that with Blend they cut cycle times by 7.3 days in total: 2.5 days from app submit to processing, another 2.2 days from processing to underwriting, and yet another 2.6 days from underwriting to clear-to-close. Among customers who responded, the average return on investment was $520 per loan.
Our platform is flexible enough to meet the needs of various operating models, including direct-to-consumer and retail. To ensure lenders are staying at the top of their game, we're constantly innovating and adding new services to the mix.
Ready to see for yourself how a mortgage automation platform can transform your lending business?
Download our guide to thriving as a
mortgage lender of the future