Navy Federal Credit Union, the nation's largest credit union, partnered with Blend earlier this year to help navigate the effects of 2020's refinance boom. Many financial institutions faced similarly challenging positions this year, wading through a record number of refinance applications in the midst of a shift to a largely remote working environment.
Some banks and credit unions tried reallocating resources, but the magnitude of the increase meant that this required deprioritizing other products to an uncomfortable degree. Some tried quickly hiring, but the increase in staff served to offset any potential revenue gains from the unexpected boom in business. Others, such as Navy Federal Credit Union, turned to trusted partners like Blend.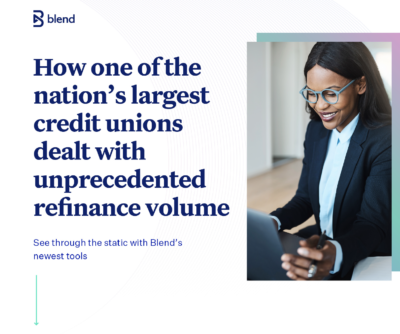 The right tools
In response to the rapid influx of applicants accompanying 2020's mortgage refinance boom, Blend's team of engineers set to work on a suite of new features to help financial institutions including Navy Federal manage volume and increase efficiency throughout the mortgage process. Among these features were tools designed to reduce manual reviews and auto-decision more applications. With this feature in place, institutions are able to set minimum credit requirements within the applications based on the institution's internal guidance, narrowing the number of applications staff must spend time on.
"Our team quickly identified these tools as a high-potential opportunity to help mitigate our volume challenges," says Randy Hopper, SVP of mortgage lending at Navy Federal Credit Union. "It was great to work with Blend's team during the development process and see how our feedback impacted the final product."
The results
With Blend, Navy Federal Credit Union was able to reduce the number of loans that required manual review by 23%. Their team estimated that each of these loans would have taken a loan officer 30 minutes to review, meaning they were saving hundreds of hours weekly.
By using the right tools, the team was able to manage an overwhelming amount of applications, and provide higher quality services to their members. To learn more about how Navy Federal was able to handle their increase in volume thanks to help from Blend's tools, click through to the infographic.
A lasting partnership
Navy Federal and Blend have enjoyed a long partnership. By implementing Blend's Digital Lending Platform, Navy Federal's staff improved its ability to offer an integrated consumer experience in the member's channel of choice. They were able to realize gains including saving three days with the addition of instant pre-approval letters, seeing a 40% reduction in time required for borrowers to submit an application, and a two-fold increase in self-serve applications after switching to Blend.
As consumer expectations change along with the tools needed to meet them, Navy Federal will continue its digital transformation. "Working with Blend ensured that we were part of an ecosystem that would continue to evolve with us," noted Hopper. "We're excited to be on a platform that enables innovation going forward."