Are you wondering what your eClose options are? Or what type of closing experience your customers are looking for? Many lenders are asking these same questions, especially as new legislation and technology continue to change this space.
eClose refers to the ability to close a mortgage loan electronically — where some or all of the closing documents are accessed and signed electronically. There are a multitude of different types of eClosings. What differentiates them is the extent to which the process is digitized. Access to these solutions depends on state and county laws, individual title underwriter's policies, and investor and warehouse guidelines.
The space is evolving rapidly, and consumers have more choice than ever before in how they want to close their loan. As this opportunity for self-direction continues to grow, lenders should consider offering all types of closings (as available) to best serve their customers.
We're breaking down the elements of the closing process and the different types of eClosings so you can begin transitioning from an old-fashioned mortgage closing to a more modern experience.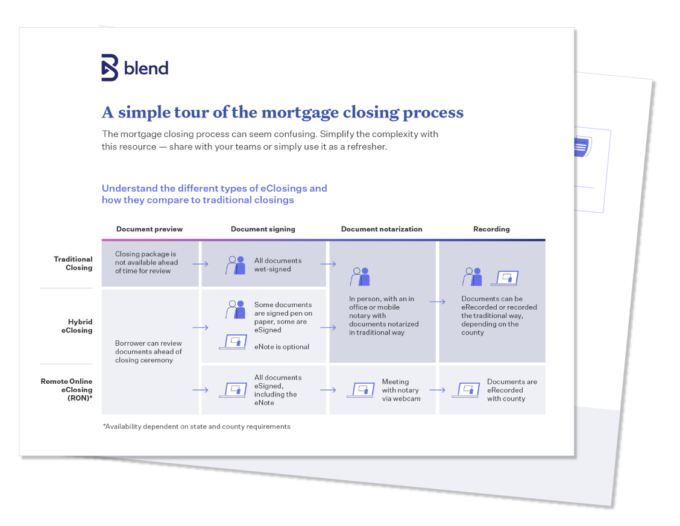 More of a visual learner? Download the infographic.
Demystifying the closing documents
Closing involves many types of documents that must be signed and transferred to different locations. Only certain documents need to be notarized and recorded with the county, so many can be signed ahead of time.
The most important documents are:
The security instrument (Deed of Trust or Mortgage) must be signed and notarized. After the closing is complete, it must be recorded with the county office either electronically (eRecorded) or mailed and recorded manually.
The promissory note, or eNote (its electronic equivalent), is signed during the closing appointment.  After signing, the promissory note is transferred to the back to the lender and then on to the investor or warehouse. If a paper promissory note, it is transferred by mail.
When an eNote is used, it must be stored in an eVault, establishing it as the authoritative electronic copy and is registered with the MERS® system which records the owner of the note. The eNote can be automatically transferred to a warehouse or investor eVault.
Making sense of different eClose options
There are two main types of eClosings. Both primary eClose options allow the borrower to review the documents ahead of time, giving them more time to digest and understand the documents.
In a hybrid eClosing, key documents like the security instrument and promissory note are wet-signed, while other documents are eSigned. Notarization and recording occur in the same manner as in a traditional closing.
Remote online eClosing, or RON, is fully digital. All documents, including the eNote, are eSigned, electronically notarized by a remote notary via webcam, and recorded.
How can I ensure I'm supporting my customers with the best closing experience today and in the future?
With such variation in closing processes and constant changes to regulations and technology, it can be difficult to figure out how to get started.
A hybrid approach is a good place to start because it can be used for 100% of loans. But the space is evolving quickly, so staying ahead of the game and additionally offering the most modern experience possible is key. Consumers have different preferences and appreciate having a wealth of options to choose from.
Platforms that enable all digital closing options help you serve the needs of each of your customers in the way that works best for them. They automatically stay up to date with the latest technology, which means you can immediately offer it to your customers without any additional work.
Navigating a changing landscape
Understanding the different types of eClosings can be overwhelming. We hope our breakdown offers some clarity as you navigate a stage in the lending process that's changing so quickly. Choosing a platform allows you to reap the benefits of new technology while enabling optionality for your customers.