Accelerate workflows with AI
Blend Intelligence is the new standard for automation
Did you know, not all artificial intelligence is made equal? Blend's platform processes nearly $1.5B in loan volume per day, which gives us an edge when it comes to building high-quality predictive models that deliver real results.
What does it mean to boost lending workflows with artificial intelligence? For one, it offers consumers a more personalized process, tailored to their individual needs. In addition, it lowers processing costs and can exponentially accelerate processing. Saving time is key to saving money.
Take a peek behind the curtain to see how Blend Intelligence provides cutting-edge technologies to transform the mortgage origination process.
Blend Intelligence in practice
Instead of spending time collecting common and edge case conditions, your teams can be confident they'll have a more complete file earlier in the process.
For consumers, Blend Intelligence enables users to address many conditions on a self-serve basis the same day that they submit an application, which means they're far more likely to close with you instead of shop around.
Take, for example, large deposits: Blend Intelligence automatically identifies issues like large deposits that can cause delays and automates engagement with the consumer to capture more information, including automatically generating a LOE for the loan file.
Blend Intelligence drives efficiency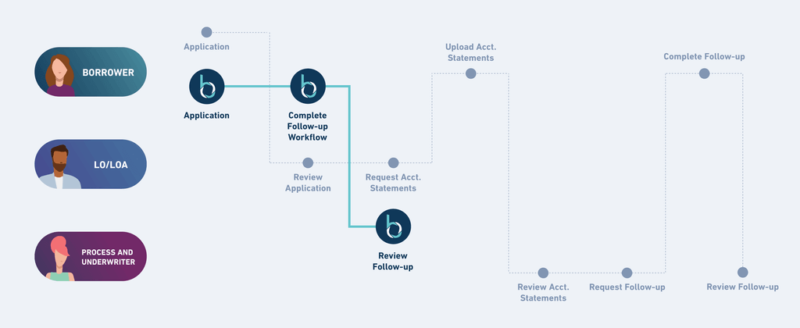 The end result of Blend Intelligence? Significantly fewer touches required from processing and underwriting teams. Imagine all the time saved from eliminating manual reviews and document requests.
Another Blend customer reduced their loan cycle time by 28% by using Blend and its intelligent conditioning. Streamlining a workflow to reduce cycle time not only delights consumers, it also gives lenders time to prioritize meaningful conversations that add the most value to customer relationships.
See Blend Intelligence in action. Request a demo.