Outstanding customer experiences have always been the foundation of Citizens' business model. Since 1828, they've been dedicated to evolving with their customers. Most recently, that includes providing a more efficient and streamlined homeownership journey. Partnering with Blend has allowed them to do just that, improving experiences with digital tools on both sides of the desk.
Working towards a common goal
There are many technology options financial institutions can utilize, but sharing a common goal makes all the difference when it comes to success. Blend works with Citizens' existing foundation because both companies view customer experience as non-negotiable. 
Senior Vice President, Program Director Blair Sirman explains that when he joined Citizens in 2018, Citizens Home Loans didn't have digital tools. To deepen and build better customer relationships, the team understood that their homeownership journey needed to be pushed forward into the digital space. "One of the first tools that we went after was a digital application," explains Sirman.  "After we shopped quite a few of them, we chose Blend because of that undying focus on the customer experience."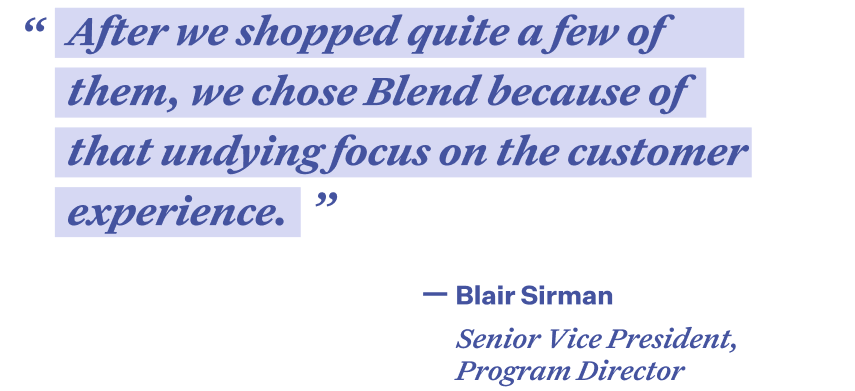 Investing in customer experience
Citizens' investment in Blend has made a significant impact on the customer experience.  "We get a lot more feedback about the ease of use than we've ever had before," says Sirman. "That was never even mentioned before we invested in the digital tools we have now."
Blend guides borrowers through an often complex process with a self-serve application flow that can be completed anywhere anytime and simplifies tasks such as document submission. "The technology is great," says Loan Officer Deb Decorte. "Customers are able to upload their own documents from the convenience of their own home."