The homeownership journey: How to deliver an end-to-end experience borrowers are looking for
See how Blend enables lenders to take a more streamlined approach and better guide the borrowers they serve.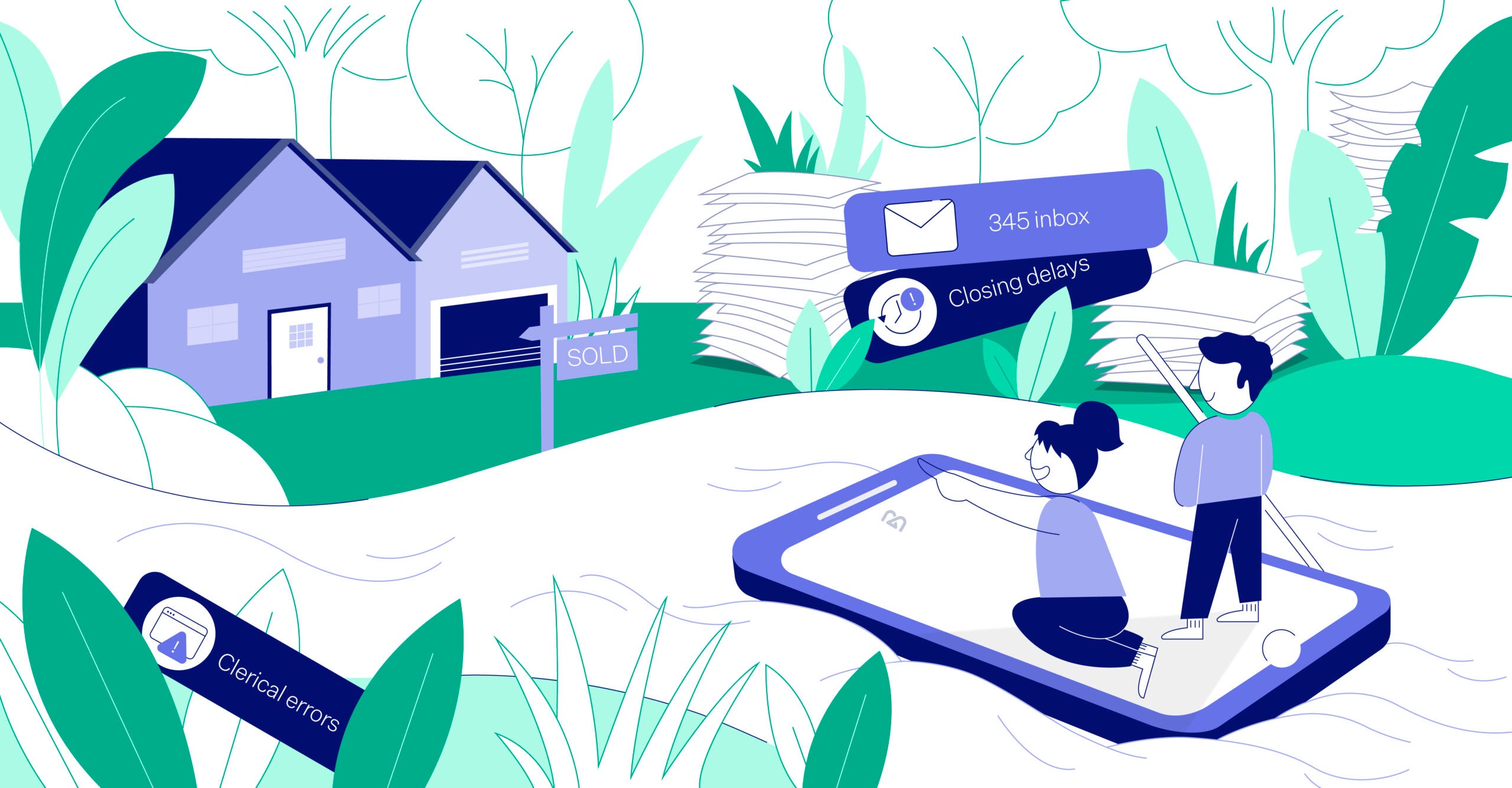 Home is where families start and grow. Where people finally find a place to call their own and build financial security and independence. Where major memories and milestones play out with the simple, beautiful routines of day-to-day life.
For lenders, helping people get into their new homes can be one of the most gratifying parts of the job. For borrowers, buying a home is a pivotal and exciting accomplishment.
But keeping up the momentum of excitement is a challenge. Besides the mortgage application itself, fulfilling all the requirements to secure a home—from shopping for insurance policies to securing title clearance—can be a complex and confusing process for borrowers. There are constant starts and stops, stacks of paperwork, and 11th-hour surprises that turn an inspiring time into a stressful one.
What is an end-to-end homeownership journey?
At Blend, we understand the challenges lenders and borrowers face. Homebuying can be a complicated and time-consuming process for both parties, and we believe it's due for an upgrade. As we've grown and evolved over the years, we built an end-to-end homeownership journey to help lenders like you better guide the borrowers you serve.
Blend's homeownership journey encapsulates the full range of services borrowers need to purchase a home – covering title, insurance, realty, and the closing process. Lenders are empowered to surface each solution at the precise moment of need directly through the mortgage application, providing value and innovation at every stage of the homebuying process.
By tightly integrating a comprehensive set of homebuying solutions into the mortgage platform, Blend is enabling lenders to take a more streamlined approach to the scattered nature of purchasing a house. Every product also reflects Blend's technological expertise through its efficiency, helping to cut down on tedious and time-consuming tasks. Simply put, the homeownership journey helps you get borrowers into the homes they want with fewer headaches and hassles.
Before we dive into how Blend streamlines the path to homeownership, let's break down some of the obstacles borrowers and lenders face through data collected from a Blend-commissioned survey and external sources.
Statistics according to a 2021 Aite survey commissioned by Blend
67% of potential homeowners say understanding the homebuying process and timelines are top challenges they face.
First-time homebuyers frequently lack the knowledge to confidently make one of the most important and expensive decisions of their lives. The homebuying process is oftentimes disjointed and may require inefficient back and forth between borrowers, loan teams, and a handful of service providers. This can cause confusion, human errors, and frustrating delays.
While 95% of survey respondents said they went to their local bank or credit union for a mortgage first, less than half closed with them.
Borrower anxiety can impact the lender because it damages customer stickiness. This is demonstrated by the fact that while the vast majority of borrowers go to their local bank or credit union for a mortgage, they don't always close with them. For many customers, brand loyalty may not outweigh more tangible benefits like ease of use, cost, and time saved.
Meanwhile, digital lenders are creating faster, simpler homebuying experiences by providing more guidance and services. Borrowers may not be familiar with the homebuying process, but they are digitally savvy and increasingly adept at seeking out which businesses provide the most value and convenience.
As a lender, you know how important it is to provide a great experience for your customers and preserve their excitement and momentum to close on a home.
Blend is here to help you retain a healthy and satisfied customer base by providing more support to the borrower and making them feel comfortable and confident on their path to homeownership.
One solution for borrowers and lenders
89% of survey respondents want their lender to provide an end-to-end solution for the many services involved in buying a home.
With Blend's homeownership journey, lenders are able to deliver what today's borrowers are asking for.
Not only are you able to provide the simpler, integrated solution to fulfilling homebuying obligations that borrowers have come to expect, you can play an active, centralized role as a trusted advisor and guide during the entire process.
Blend's homeownership journey services also create new efficiencies for lenders. Because lenders don't have to perform manual tasks such as tracking down evidence of insurance, ordering subordinations, comparing documents, or manually entering data, loan teams are liberated to spend more time deepening relationships with the customer. Automation helps cut down time spent on tedious obligations, freeing you to spend your day on meaningful work, such as answering borrower questions and simply being available for them.
Traditional means of exchanging sensitive information, such as by email, also put all parties at greater risk of stolen data and fraud. Through Blend's software, important information is passed more efficiently and securely between the borrower and the lender.
Components of the homeownership journey
49% of first-time homebuyers said obtaining homeowners insurance was challenging.
Purchasing homeowners insurance is considered one of the most confusing requirements of buying a home, especially for first-time buyers.
Customers want and deserve the best product at a competitive price. But this isn't as simple as buying a TV or smartphone. From coverages to deductibles and premiums, purchasing homeowners insurance can feel overwhelming, as many borrowers don't know what they need or what price is fair.
With Blend's homeowners insurance marketplace, borrowers can collect and compare policy quotes from 20+ carriers almost instantly, and easily connect with an insurance specialist or even purchase online, if available. Eighty-three percent of Blend Insurance customers save money on their policy premium, at an average rate of $710 annually. (These savings are based on 83% of Blend Insurance Agency customers who save money on their policy premium, compared to the average insurance quote on their home.)
While loan teams typically take days to track down policy verification documents, Blend automatically uploads evidence of insurance into the mortgage platform—which means lenders can verify coverage faster and reduce the risk of closing delays.
Real estate agent matching
91% of first-time homebuyers said finding the home they wanted or fit their needs was difficult.
These days, pre-approval letters are so important that many customers obtain one before finding a real estate agent. Blend Realty connects those motivated homebuyers with expert, vetted agents in their local market.
The process starts with a concierge team, which assesses individual borrower needs, conducts a careful matching process, and then presents the borrower with several top-quality agents to choose from.
This team also provides an invaluable extra layer of customer support through closing, promoting a smooth and obstacle-free transaction for all parties. Plus, eligible customers can even earn a cash back offer on the purchase of their home.
Blend Realty not only ensures lenders are able to connect consumers to experienced real estate agents in every state, its concierge team is uniquely able to oversee the process and help it run smoothly. This can help deepen the customer relationship and build trust, as finding the right agent and navigating closing can be a tricky, time-consuming process.
The current title process can be lengthy and lacks transparency. Manual coordination between the lender and title agency adds complexity and causes slow downs and delays. Loan teams are often required to handle curative work. Finally, the process needs to be secure, as personal information via email, phone, or paper-based communication can be susceptible to fraud.
Blend not only connects lenders, borrowers, and title/settlement providers in one secure place, but Blend Title Agency, our integrated title company, does the heavy lifting for the loan team and can help accelerate time to close by:
Providing an instant title search commitment
Allowing loan teams to automatically order titles with no manual work
Streamlining processing by taking care of recording and insuring property ownership at the outset
Digitally reconciling settlement fees in real time
Blend Title Agency reduces back and forth communication, cuts back on time-consuming labor for loan teams, and creates a secure closing and escrow process.
83% of first-time homebuyers said understanding the closing process and timelines was challenging.
With Blend Close, borrowers and lenders can enjoy a more efficient closing experience by streamlining the final (and most massive) part of purchasing a home.
Whether it's an in-person paper closing or a fully digital, remote online closing, Blend Close offers a host of efficient features, including an automated preparation of closing documents for eSignature – allowing the borrower to review documents in advance and on their own time.
Blend Close also enables the borrower to directly schedule a closing appointment, removing the back-and-forth process with the lender, as well as the ability to quickly and securely share documents with settlement agents.
The benefit to lenders is significant. Hybrid closings, for instance, generate cost savings due to reduced labor, shorter loan cycles, fewer errors, and use of eSignatures rather than printing and shipping documents. This means lenders are able to save time and close faster.
Establish a new relationship between lender and borrower
Blend wants to make the homebuying experience a more productive one for both the lender and borrower. As a true, end-to-end homeownership solution integrated into the mortgage process, Blend's homeownership journey frees lenders to establish a better relationship with their borrowers. A relationship that is no longer associated with confusion, anxiety, tedious paperwork, and routine tasks, but with sound advice, service, confidence, and consultation throughout every step of the way.
While our solutions modernize the homebuying process, we're old-fashioned in our belief that the borrower and lender relationship works best when it's personal.
From a business perspective, customer loyalty matters tremendously and ensures referrals and repeat business. From a human perspective, helping people achieve their personal homeownership goals is an incredible feeling too.
Blend's homeownership journey enables you to become a trusted advisor, partner, and guide to the people you serve – simplifying the homebuying experience for borrowers, strengthening your relationships with customers, and bringing your lending process into the future.
Ready to learn more about how Blend reimagines the homeownership journey?