At Celent, a leading research and analyst firm, the financial services team recognizes the importance of modernizing the entire lending process via digital transformation, noting that it improves lenders' bottom lines and helps them exceed customer expectations. But what's the best way to accomplish this? According to a recent briefing note: choosing one streamlined solution for all lending products via enterprise lending systems.
Examine the retail lending technology market from the Celent team's perspective, honing in on Blend's platform and its rapid growth.
---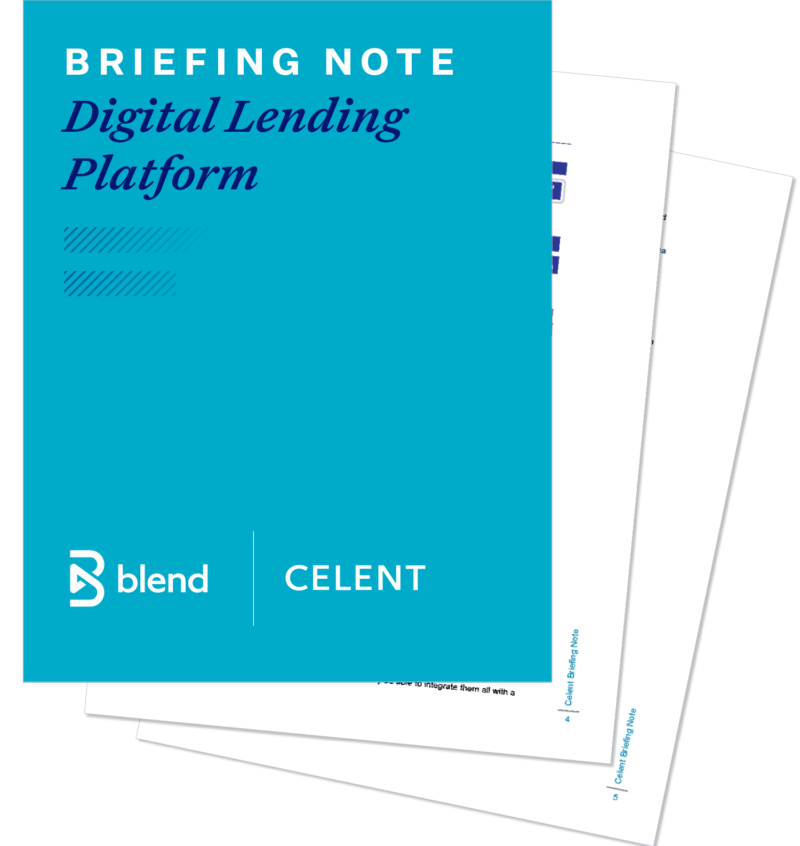 ---
Key takeaways from the Celent briefing note on enterprise lending systems
Celent analysts examine the retail lending technology market, honing in on Blend's platform. In the brief, they dive into Blend's digital channel solution strategy, the structure of the platform, and how it integrates with lenders' existing technology stacks.
---
"Blend's Digital Lending Platform is rapidly becoming an enterprise solution for all retail lending and deposit account products through which lenders can provide a consistent digital experience to customers while coordinating the sale of one or more loan products." — Read the full briefing note here →
---
We have expanded our Digital Lending Platform beyond its mortgage roots, continuing to add support for a number of consumer banking products. Our platform approach will allow lenders to offer users a unified application experience across:
Mortgage
HELOC and HELOAN
Auto and alternative vehicles
Deposit accounts
Selected small business loans
Credit cards
Personal loans
Offering a consistent, positive experience across products contributes to a feeling of trust. Develop the goodwill that can breed lifelong relationships with your customers.
---
"The portal for each loan type is as well-engineered and highly customized as any "best of breed" single loan type product portal. Lenders that want to improve digital lending and have multiple, older digital POS for credit cards, auto lending, mortgages, etc. should examine those systems and their customer engagement strategies." — Read the full briefing note here →
---
Why is it so crucial for lenders to examine the status quo? According to the Celent briefing, ideally enterprise lending systems should support long-term agility and flexibility while providing the continuously improving experience consumers require.
Maintaining a number of disjointed technologies can lead to:
High software maintenance costs
Customer alienation stemming from feelings of being unknown or undervalued
Implementing a platform approach can provide:
Consistency for customers
Internal consistency
A complete understanding of customer behavior
Easy integration with your existing tech stack
A partner for the long term
---
"As COVID-19 related interest rate declines have led to a huge mortgage refinance wave, many consumers are using Blend's digital mortgage portal and One-Tap functionality to find the best mortgage product and apply quickly. Similarly, Blend's eClosing portal (scheduled for release in mid-2020) will bring consumers, lenders, closing agents, and notaries together digitally to sign loan contracts while maintaining social distancing." — Read the full briefing note here →
---
We're always focused on continually improving our platform. In 2019, we announced One-tap Pre-approval for Mortgage, enabling borrowers to get a verified pre-approval instantly on-the-go. Eventually, one-tap technology will decrease decision time and increase customer satisfaction across mortgage and consumer banking products. As COVID-19 reared its head and refi volumes soared, lenders turned to our platform, including One-tap, to drive efficiency.
In addition to the usage of existing functionality, lenders are taking advantage of a number of additional features rapidly developed by our engineering team. These quality and efficiency features provide mechanisms for lenders to adapt to the current climate:
Find ways to increase productivity and move loans along more quickly
Focus support and processing time on applications that are more likely to convert
We also accelerated the development of our Blend Close offering to help our lender partners respond to work from home and social distancing guidelines. We've rolled out with multiple early customers and continue to onboard lenders.
Blend Close identifies what type of closing — either a fully remote eClose or a hybrid eClose — a loan is eligible for based on the property address, loan type, and other considerations. It then orchestrates the closing while providing an exceptional borrower interface. It can be used for mortgages, home equity loans and lines of credit, and eventually other consumer banking products
Blend leads the way for lenders
Celent champions the power of enterprise lending systems, showcasing Blend's Digital Lending Platform and how it has propelled lenders to the forefront of the industry. In the brief, they break down how our configurable platform works and why it's a key to success. Dive in to see how we're building on our 2019 developments in 2020 and get a peek at what's still yet to come.
---
---