Do you understand what a Digital Lending Platform is? If not, that's totally fine — we often get asked to explain what we mean when describing Blend's core functionality. In these moments of confusion, we like to return to a simple analogy, one that reminds everyone that the concept of platforms is not a new one. In fact, chances are pretty good that you've used one at least once in the past few months.
In examining where ridesharing apps were a decade ago and where they are now, we can help find clarity about the similarly fantastic experiences lending platforms can provide for borrowers and lenders everywhere.
Ridesharing, which was brought to consumers in 2010, has evolved from simple mobile apps for hailing rides to mature platforms that serve their customers well beyond getting them to their destination. These platforms create a seamless experience for riders and drivers alike and have been augmented with adjacent capabilities designed to make users' rides — and lives — easier.
Similarly, Blend's Digital Lending Platform started with a simple feature set built on lofty ambitions. Now, instead of offering a point solution that serves as a digital 1003, we're continuously building out platform capabilities to grow with our lenders and allow them to provide best-in-class customer experiences.
What do ridesharing and Digital Lending Platforms have in common?
On the surface, ridesharing and Digital Lending Platforms may seem incomparable. But upon closer inspection, their journeys to their current states indicate a wealth of similarities stemming from a common key thread: optimizing the user experience for both customers and drivers/lenders.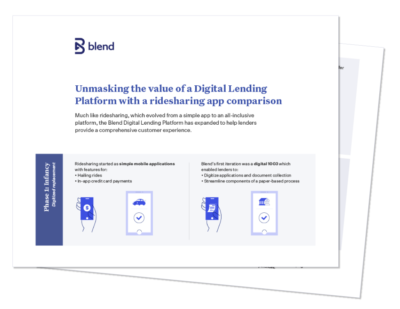 How scale and data transform simple apps into robust platforms
Data reigns supreme — it's widely viewed to be a precious commodity. But, it is also easily misunderstood. Data in and of itself isn't terribly useful, especially on an individual level. Instead, true value comes from a data-driven philosophy in support of the purposeful use of data trends.
Ridesharing companies leverage aggregated data in a variety of ways, including predicting supply and demand so that they can minimize rider waiting times and estimating rider fares and arrival times. Optimization happens on the single user level as well: platforms now suggest destinations based on different factors such as time of day and day of the week, minimizing required effort for rides like morning commutes.
Blend's Digital Lending Platform is built on $2 billion-plus worth of daily loan data. Our aggregated data has helped us decipher optimal user journeys through the chaotic and confusing mortgage application process.
We also leverage data that has been provided by the applicant to perform a user experience magic trick. Pre-populated information in applications or tailored pricing quotes, which emerge as if from thin air (but have been sourced from prior user inputs), make the process of applying for a mortgage simpler and quicker for borrowers. These features depend on an approach to data that goes beyond the transactional.
The lender is able to provide a sense of familiarity instead of treating customers as strangers.
The role of seamless integrations in creating excellent user experiences
One of the most underrated components of platforms is their ability to provide a one-stop-shop for users' broad needs (users here meaning both customers and lenders/drivers). Integrations with complementary technologies allow users to stay in one portal for a unified and uncomplicated experience.
Ridesharing services process payments automatically after a ride. No checkout screen. No pop-up that takes you to a separate payment app. Just a simple and effortless transaction. Tipping also happens in-app, meaning the rider never has to worry about having the right amount of cash or swiping their card. This fundamental platform experience would be impossible without an integrated payment system.
Ridesharing providers made an early decision to partner closely with payment processing providers, embedding the experience directly into the general user flow. This experience has become so normalized, it's hard to remember that payments weren't always so simple. Just look to the healthcare industry, which still relies on sending bills by snail mail, for examples of how far we've come.
Payment integrations are fundamental to a functioning rideshare platform, but they're just the start. To aid the process of smooth rides, ridesharing apps also incorporate other partnerships, such as maps services. These maps give the rider a relatively accurate estimated time of arrival and ensure drivers are taking efficient routes. Location services also allow both driver and rider to see the other's location so they can meet at the correct spot.
The Blend platform removes friction for both lenders and consumers through a wide variety of integrations. Instead of collecting months' worth of bank statements, borrowers can simply link their accounts during the loan application process.
For lenders, integrations with major underwriters reduce processing and underwriting time, improving productivity and enabling them to close more loans faster. Our platform integrates with core banking systems and loan origination systems, and our APIs allow for rapid development of new integrations, so lenders can still utilize their existing tech stacks while getting the benefits of Blend's platform.
These integrations signal our partnership-driven approach to development, and as we continue to develop the platform, these integrations will only increase in breadth and diversity.
One platform for collaboration across the user journey
All parties involved in a transaction operating in the same platform facilitates simpler connection between them.
Because both driver and rider use the same platform, they can communicate within the app. If either party is having trouble locating the other or there is another issue, they can safely call or message the other without having to disclose their phone number.
In Blend, the loan officer is able to follow along with the borrower's progress in the application portal. If the borrower has a question or needs assistance, the LO can provide remote support at any point with the Co-pilot feature.
Expanding to complementary products that enhance the consumer experience
At their most simple, ridesharing apps take riders from request to safe dropoff. But recently, they have utilized their core competencies, including access to fleets of drivers, to expand into other product offerings that make sense for their customers. These new offerings include food delivery and freight shipping, and we don't expect to see the expansion stop there.
Blend began as a mortgage origination tool, and we've evolved to support lenders and their customers across, and beyond, the entirety of the homebuying journey. The platform extends from hello (fantastic application experiences) to close (integrated closing capabilities built directly into the same user interface borrowers and lenders have used up to that point) and all the way to a borrower getting the keys to their new home. We've also launched a Consumer Banking suite of products so lenders can further unify the customer experience.
Although in different industries, the similarities among these evolutions stood out to us, particularly in the aim to serve customers in a holistic way. We look forward to sharing the continued advancements to our Digital Lending Platform.
The meaning of a platform revealed
We hope that by comparing the familiar experience of ridesharing apps with Blend's Digital Lending Platform, you've come to a better understanding of what a platform really is. By leveraging aggregate data trends, both ridesharing apps and Blend are able to better understand collective end user groups and serve them in more intuitive ways.
Both types of platforms have evolved to provide improved user experiences largely in part to their integrations with multiple other technologies. Keeping all participants in one platform — in ridesharing, this means rider and driver, and in Blend, LO and borrower — makes for a more seamless process with less guesswork.
And expansion to complementary products has allowed these platforms to increase their impact on users. Where will the shared platform evolution lead us next?
---
Keep reading about what separates a platform from the status quo
---