We're in an unprecedented time, which is changing the way we all live and work. The lending environment — including activity and rates — is unpredictable. "Normal" working conditions have become anything but. Although it's unclear how long these conditions will last, what is clear is that lenders need a solution now.
More than ever, there is a pressing challenge to stay productive and provide the same, or better, level of customer service while working remotely. Your team members aren't sitting together in the office. Loan officers can't invite a potential borrower to the branch for coffee to chat about getting them into their dream house. If an issue arises with an application, borrowers can't stop in and talk face-to-face with their LO.
With all of these challenges, how do you maintain business continuity and a consistent experience for your customers?
Providing fantastic digital experiences that help lenders provide top-notch customer service remotely while efficiently managing volume surges is what Blend was made to do. We know customers are willing to go digital for mortgages, and we continually work to nail the process. Our platform is built for loan officers to seamlessly — and digitally — take borrowers from application to close. And this streamlined process includes product features that improve loan officer and processing team productivity, which is crucial in this volatile environment.
The power of Blend from home …
LOs can utilize the entirety of Blend's capabilities remotely. Keep up with leads and applicants in the pipeline view to make sure conversion rates are high. When signing into the Blend portal, lending staff can organize their pipelines in a way that works for them, sorting by last activity or last touched, quickly gleaning who they might need to reach out to. If a borrower hasn't made progress on an application in a few days, LOs can use this opportunity to fire off a quick email to the borrower with a direct link to the application and a personalized note offering assistance. And if your team wants to check the status of a particular loan, they can search by borrower name, email, or reference loan number. No matter what your team needs to do from home, Blend's lending tools are here to support.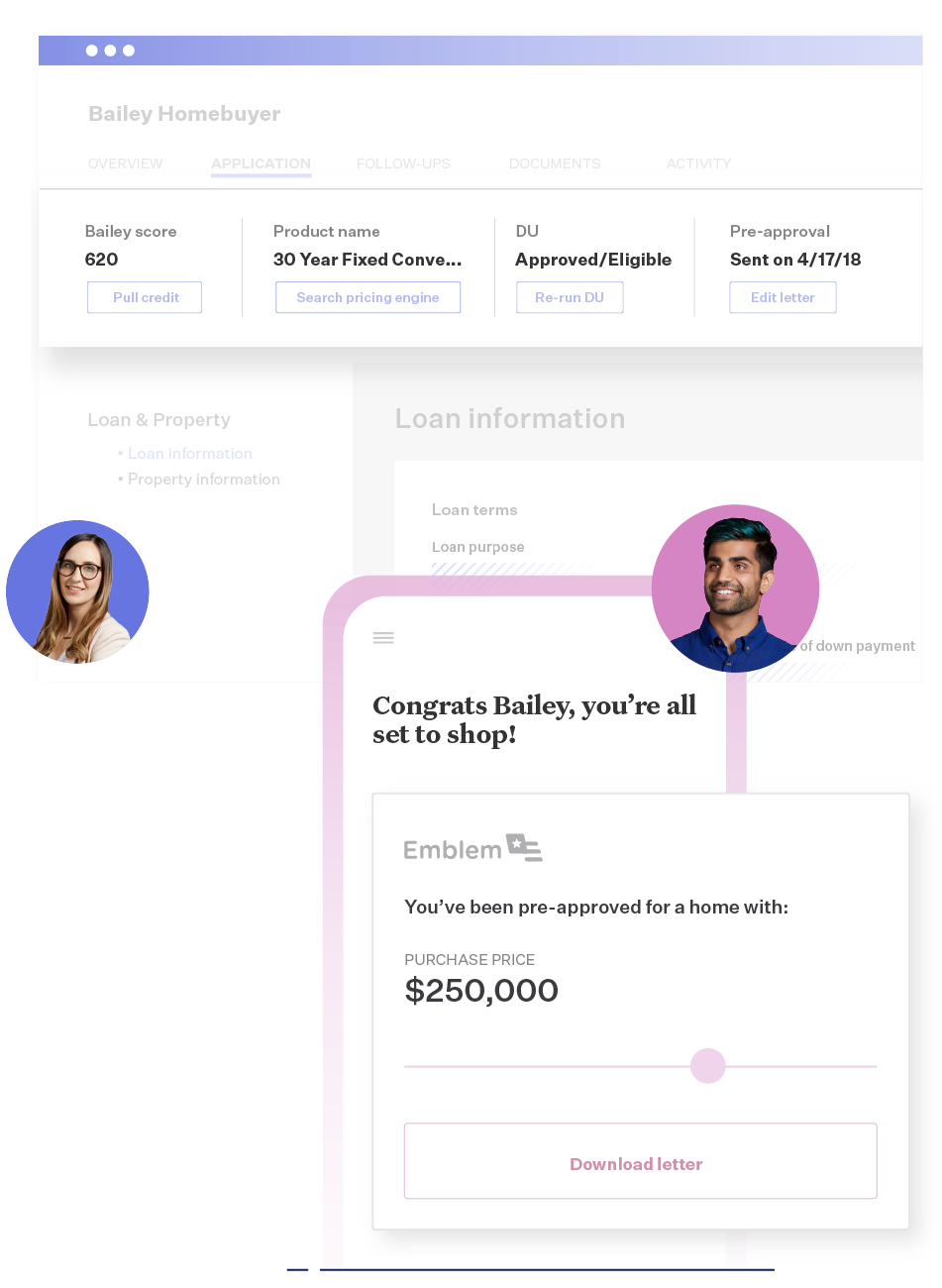 When it comes to the application process, your team isn't limited by the elimination of face time with borrowers. Not only can they send an application link via email, LOs can also text the borrower to let them know the application is headed their way. Once the borrower starts the application, they can complete it themselves via the user-friendly interface, or your team can use co-pilot mode to follow along. To add another layer of service, LOs can chat on the phone with the borrower while they fill out each section, offering additional context.
 … and in the palm of your hand …
Many lenders weren't left with adequate time to provide each employee with a laptop before remote work began. If that's you, Blend has you covered. The Blend Loan Officer mobile app offers the full functionality your team needs to continue interacting with borrowers and driving new business.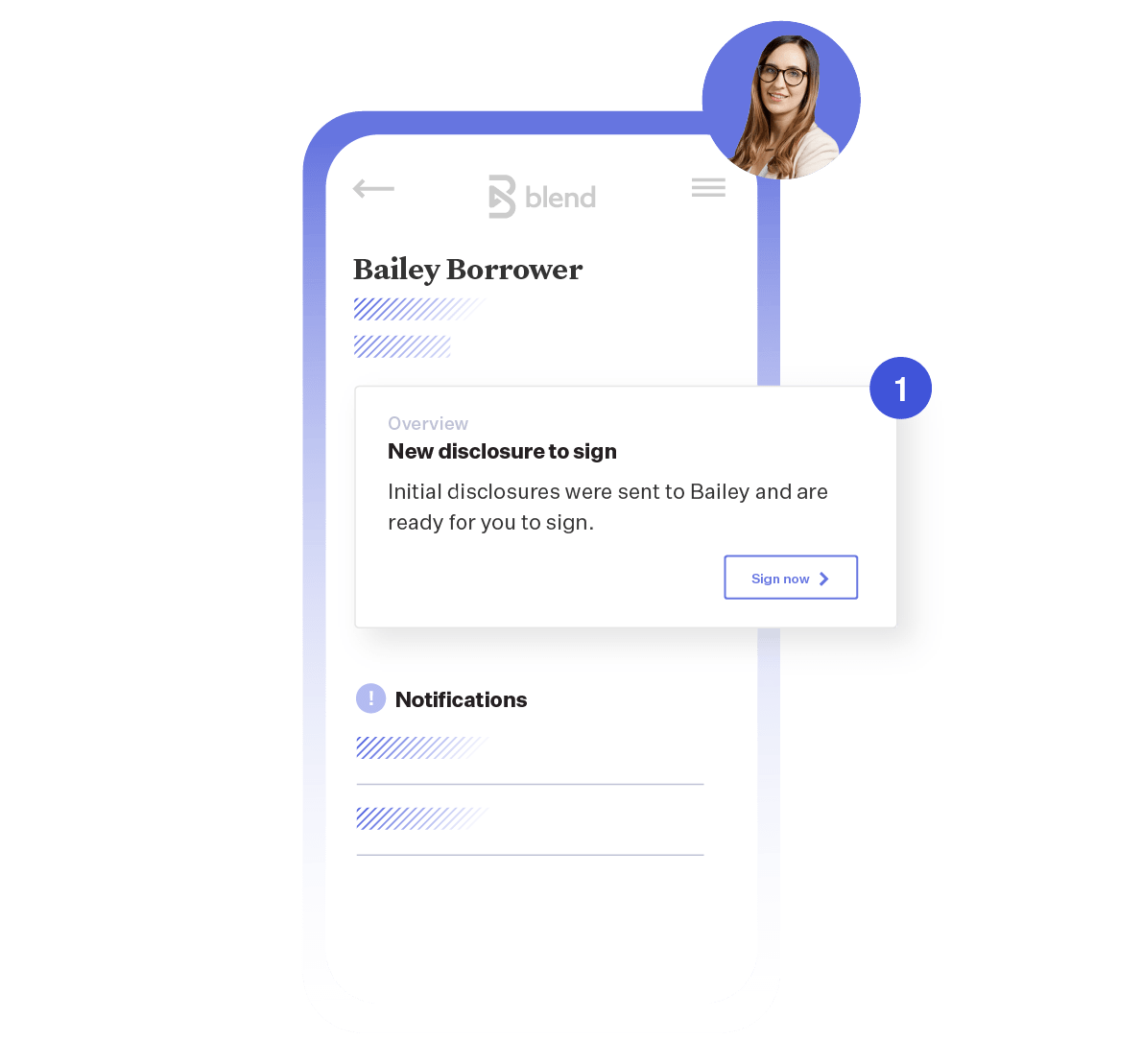 It's also helpful even if your team does have a laptop, but you don't want them tied to it all day and night. If they are doing busywork around the house or watching TV at night, Blend Loan Officer updates them on the progress of borrowers' applications. As deals progress, they can countersign disclosures right from the app. And because borrowers can e-sign disclosures too, the entire process is possible without any face-to-face contact.
That doesn't mean borrowers feel neglected, though. The platform allows LOs to provide as many personal touches (while socially distancing) as the borrower is looking for.
… with the lending tools that support resilient teams
Your team has lost the time they spend together each day in the office. In a time where details can easily get lost in the shuffle, it's important for teams to feel connected. The Blend platform solves for this by incorporating functionality that allows LOs to add other team members to the portal, so the whole team is synced up on each application they're working on.
Our goal is to help calm the chaos our partners are experiencing. In late March, Randy Hopper, senior vice president of mortgage lending at Navy Federal Credit Union, remarked, "Because of our partnership with Blend, we've been able to better manage a truly remarkable time in home lending." Our platform, by integrating digital lending tools that power a remote workforce, provides our customers with the ability to navigate this environment with consistency and peace of mind.
We're here to be your partner — during these tough times, when digital is the only option, and in the future, when you're working to satisfy the increasing demands of customers for a top-notch digital experience.